2017 Events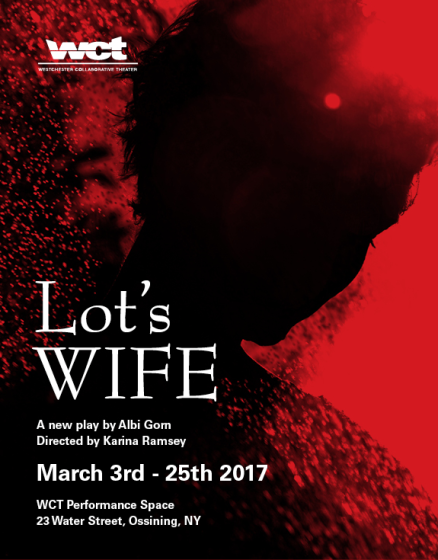 The Westchester Collaborative Theater (WCT) Performance Space Opens Its Doors with the World Premiere of Lot's Wife by Albi Gorn
A stirring new play tells the saga of one family's struggle to find salvation in a world rife with hate. Opening night March 3; weekends through March 25
Ossining, NY – On Friday, March 3, the Westchester Collaborative Theater's new WCT Performance Space will open its doors for the first time with the world premiere of Lot's Wife, a provocative new play by award-winning playwright Albi Gorn. The inaugural production in WCT's newly acquired and renovated space at 23 Water Street in Ossining, the play retells the biblical saga of Lot, his family and their struggle to save Sodom by finding ten devout souls who will prevent God's wrath from destroying the city. Lot's Wife runs over four consecutive weekends through Saturday, March 25th.  WCT Executive Producer Karina Ramsey is directing the mainstage production.
The ensemble of WCT actors performing in Lot's Wife includes: Michelle Daneshvar, Justina Dieck, Jason Fineberg, Julie Griffin, Donna James, Jessica Hickey, Kurt Lauer, Pat O'Neill, Ron Schnittker and Ralph Vandamme.
Gorn credits WCT for bringing the piece to fruition since it was developed and dramaturged through WCT's ongoing workshop process that enables member actors and writers to bring new pieces to life.
Lot's Wife will be performed at the new WCT Performance Space, 23 Water Street in Ossining, NY with evening performances at 8pm on Friday March 3, 10, 17 and 24; Saturday March 4, 11, and 25; and Thursday March 16. Matinee performances will run Saturday March 11, 18 and 25 at 2pm and Sunday March 5, 12 and 19 at 3pm.